A popular destination offering historic Southern charm and culture, Charleston, SC, teems with fun fall activities for all ages. The fall weather is spectacular, warm, and mild humidity. If you've never visited, you're missing out.
The town's scenery, people, and atmosphere are magnificent, boasting traditional charm enhanced through a modern vibe. Notable neighborhoods with modern and historic homes for sale in Charleston, SC, include Goose Creek, Hanahan, North Charleston, and Mt. Pleasant. This quick guide lists events, places, and activities worth exploring during the fall.
1. Relish a Historic Tour
Touring the city's stately historic homes, streets, and waterways is one of the best ways to absorb and appreciate all the local charm. Charleston, SC, boasts an array of historic tours available year-round. Walking tours and sightseeing boat tours range from one to two hours.
There are guided, self-guided, and GPS-enabled tours. These tour routes wind down historical streets and through historical neighborhoods. You might find yourself inspired to extend your visit once you see some of the Mount Pleasant homes for sale. Boat tours departing from Charleston Harbor explore the South Carolina Lowcountry marshland and tidal creeks. Whether you go for a pro tour guide or a self-guided audio tour, you'll get a rich historical background and details.
Tip: Wear comfortable shoes and light clothing, and keep a bottle of water on hand. Bring a light sweater if you book a boat tour; it gets a bit cool on the water.
2. Book a Ghost Tour
Charleston, SC, features a host of ghost tours year-round. However, fall is the high season, and many types of ghost tours pop up around Halloween.
Nighttime tours hit the perfect mood, but you may opt for a daytime tour if you're a bit squeamish. During these outings, a seasoned, knowledgeable guide takes you on a trek through Charleston's "spooky" sites, such as:

Historic church cemeteries and graveyards
Haunted jail tours

Ghost pub crawls
3. Get Your Fill of Charleston's Eats
The Charleston food scene is among the most celebrated nationally. Shrimp and grits are a nationally beloved dish believed to originate in Charleston and the Lowcountry. Today, Charleston is a scrumptious think tank churning out delicious Southern fusion food and updated perspectives on traditional Southern micro-regional cuisine.
Charleston has plenty of other types of cuisines as well. Fortunately, fall in Charleston provides plenty of opportunities to explore the city's history, geography, people, and culture through its food. Here's how:
Lowcountry restaurants: Menus crafted from local growers feature seasonal ingredients grown and harvested with care and then expertly prepared in professional, local kitchens. Fresh seafood and shellfish are abundant, typically appearing on every menu.
Specific restaurants may come and go, so research local restaurants and ask the locals for recommendations.
Taste of Charleston Festival: Charleston hosts an annual Taste of Charleston festival. In recent years, as many as 40+ restaurants have participated. The festival is usually a multi-day affair on a weekend. The variety of events makes it fun and easy to partake in many foodie-oriented activities and entertainment.
In previous years, the Taste of Charleston showcased:
An Iron Chef Competition: Modeled after the popular show, local chefs battle it out in a state-of-the-art facility before a live audience.

The Taste of the Kitchen: This is an event featuring actual celeb chefs.
The Taste of the Arts on Gallery Row: A fun crawl mixing local galleries, the artists they showcase, and appetizers from local restaurants.
The Taste of Charleston Main Event: Patrons can sample from dozens upon dozens of Charleston's finest local restaurants as well as specialty beers and wine pairings.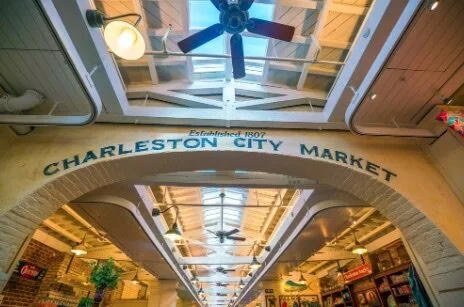 4. Tour Charleston's Plantations
Charleston is the site of many antebellum plantations that are historical sites. Middleton Place, for example, is a National Historic Landmark. Plantations boast breathtaking scenery, sprawling greens, landscaped paths, and lush arboreal scenery.
Charleston's local plantations fascinate millions of visitors year-round with seasonal activities. Some of these fall activities include the following:
Boone Hall Plantation hosts the Taste of Charleston Main Event as well as an annual Pumpkin Patch and Corn Maze.
Magnolia Plantation in Dorchester County features the Autumn on the Ashley Arts and Crafts Fair.

Drayton Hall invites guests for Sunday Wine in the Garden.
Both Boone Hall Plantation and Magnolia Hall Plantation also feature "Fright Night" events. The events stretch over 17 or more days, beginning in late September and ending on Halloween night. There's kid-friendly trick-or-treating and other activities as well.
5. Catch a Local Music Festival or Concert
While it doesn't get the same press as Nashville, Charleston is a major hub in the Southern music scene. A-list headliners come through every year, many stopping by during fall. Luke Bryan, KT Tunstall, and the legendary Bruce Hornsby are a few acts who've appeared in recent years.
Throughout September and October, there are daily concerts and weekly music, food, and drink festivals at these local venues:
Lowcountry Jazz Festival

Music on the Green

Color of Music Festival

Riverfront Revival Festival

Boogieman Music Festival

Music Farm (rotating acts)

MOJA Arts Festival

Charleston Beerfest

Donut Fest Charleston

Holy Smokes BBQ Festival

Southern Songwriter Festival

Fall Food Truck Festival
Maximizing Your Time in the Holy City
By foot, boat, or carriage, you can take in a superabundance of sights, eats, drinks, and music that define the Holy City. With a little planning and an adventurous spirit, it's possible to have a stellar Charleston, SC, travel experience. Good luck, and have a ball.
Related post: Charleston vs. Savannah vacation