Thinking of where to travel for five days this holiday? Then you have landed on the perfect page with complete access to budget Friendly planned trip to Goa, India.
Have you ever wondered about a place that has beaches and mountains at the same time? Yes, it is indeed possible, and you can reach here by train, car or airplane.
Why Goa?
Goa is one of such wonders to me that shows its beautiful nature full of orange beaches and ever-ending rocks on mountains. So, let me break down the details.
Transport
Assuming this to be a five-day trip, My friend I suggest you a
train journey if you are from the Southern part of India and
an airplane for international/ north Indian travelers for your convenience to reach the destination in less time.
The total budget for the trip by train is Rs 8000 (including water sports, trekking, a road trip from North Goa to South Goa, petrol fee, car rental fee, food, and accommodation)
Reaching the destination
From every train station, you will find the Goa station too. You can get off at Vasco da Gama Station.
Keep a rental car for road trips or your half money for the trip is being estimated to go on the auto rides. Prebook a cab and tell them to stand near the Vasco da Gama Station.
Day – 1 First stop Ponda
Vasco da Gama Station to Ponda distance – 50 mins via Car. 
An average fee for the hotels here could range from 1200/ night. If you have friends with you, you can share the room.
Palolem Beach
Ponda to Palolem Beach distance – 1.5 hours by car (Won't take long as the journey is completely through the highway). 
The best part about Palolem Beach is its orange sunset and the black sky meeting together at the end of the day. They have amazing restaurants just within 200 to 400 meters of the beach. You can relish both vegetarian and non-vegetarian foods.
Second stop
Savoi Spice plantation
Palolem Beach to Savoi Spice plantation distance – 2 hours. 
A very well-known plantation garden. A lot of Indian spices are grown here. You can visit this place and buy the organic collection of spices. How interesting it is!
Day – 2 First stop Baga Beach
Ponda to Baga beach distance- 1 hour 15 minutes via car 
Beautiful shopping lanes, the best morning sun, and even the range of beers available around.
The second stop is Parra Road
Baga Beach to Parra Road distance – 16 minutes by Car
You have to see the best Chinese Temple on the streets here and the tall coconut trees shading the streets while you drive through a long way to our third stop. Parra Road is more of the streets like in LA.
Third stop Vagator Beach
Parra Road to Vagator Beach distance – 15 minutes by car
Well known for its beauty of photography and scenic. It is a very famous beach for our international tourists too. From tender coconut stalls to your local vendors. Everybody has tropical juices to adore you.
Chapora Fort
Vagator Beach to Chapora Fort distance is 7 minutes by Car 
The beach has connected ways to reach a historic fort called the Chapora Fort in Goa. It talks about how the Portuguese changed the name of a Muslim ruler who built this fort.
Fifth stop
Arambol Sweet Lake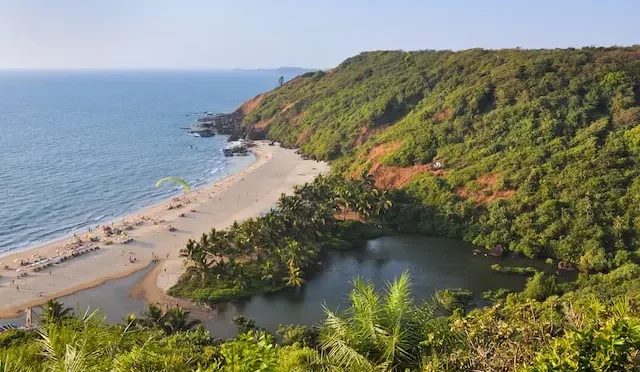 Chapora Fort to Arambol Sweet Lake distance – 47 minutes By car
The actual name of this river is Vagkolam. Local authorities and people call it the Sweet Lake.
Especially for the tourists who visit Goa for spiritual awakening and peace practice, this place is a must-visit for its sole purpose.
Day 3 First stop Cola Beach
Ponda to Cola Beach distance – 1.5 hours by Car 
For our lovely sunset suckers, I have come up with this amazing beach called the thrilling Cola Beach.
For sports like kayaking, the waters are pretty low here and the best experience of kayaking is only when you mangroves sliding through the beach.
cost – Rs 400
The Second Stop is Kakolem Beach
Cola Beach to Kakolem Beach distance – 15 minutes by car 
You would not get a lot of tourists here. Known for its photography and hand pan players to soothe the silent waves with their delighting sounds.
Tip: Best place for Proposals too
Day 4 
Dona Paula Beach
Ponda to Dona Paula beach distance – 55 minutes by Car
A very crowded yet artistic beach. Commonly known for its attraction to a woman called Dona Paula whose love story led us all there now.
Second stop
Our Lady of the Immaculate Conception Church
Dona Paola Beach to Immaculate Conception Church distance – 16 minutes by Car. 
This is a holy church known for its never-ending spiritual names and gospels being prayed for the lord.
Third stop Aguada Fort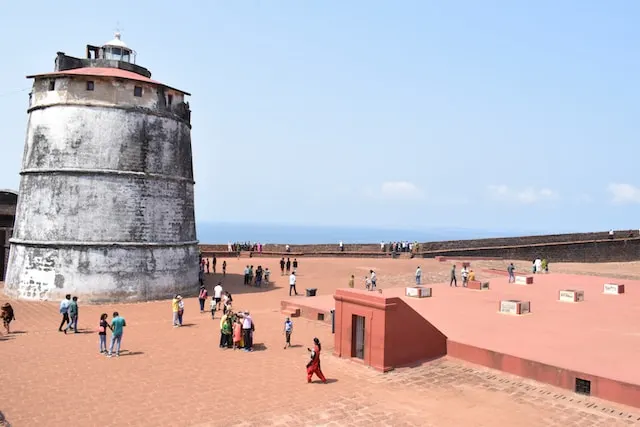 Immaculate Conception Church to Aguada Fort distance – 40 minutes by Car 
A fort full of Portuguese history wrapped in hot springs where ships come and rest on the shore. It can be a once in a lifetime visit historic place for many.
Fourth Stop Fontainhas
Aguada Fort to Fountainhas distance – 40 minutes by car
What a lovely name!
A lot of Bollywood movies are shot here. Walls of red, yellow, green, and blue painted with white look mesmerizing to see beside.
Fifth Stop Old Goa
Ponda to Old Goa distance – 35 minutes by Car
The moment you reach old Goa, you can see the roadside filled with red lighting garnering the churches alongside. Do visit them and pray for your good luck.
This was it for our beautiful journey to Goa. For more such easy planning, stay tuned for our upcoming travel guides and recommendations.